---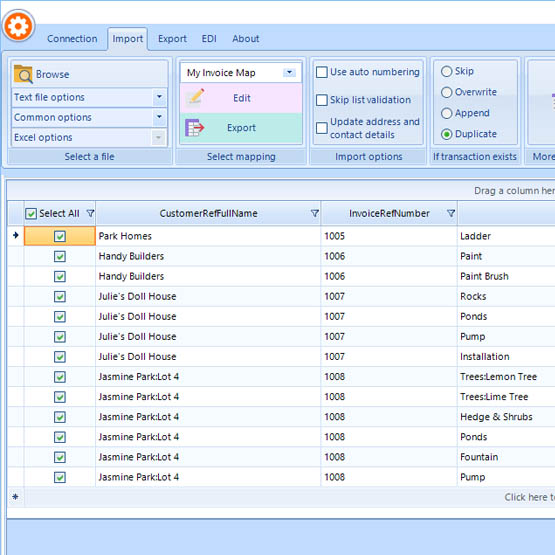 QuickBooks import - Zed Axis v14
From $195
Zed Axis software makes it easy for people to import, export, modify and delete transactions and lists from text, IIF or Excel spreadsheets directly into your QuickBooks desktop, QuickBooks Online or QuickBooks POS company file, saving you hours in data entry and reducing costly mistakes.
Thousands of happy customers rely on Zed Axis to help them reduce data entry in their business.
The tool has proven its worth one hundred fold, saving us hours of data entry and providing me piece of mind. I would, without reservation, recommend this tool to anyone who needs to import relational data into QuickBooks.
Buy now
Transactions supported
Axis supports all major sales transactions from Estimates through to Invoices, purchase type transactions from Purchase Orders through to Checks & Bills as well as journals, time entry's and inventory type transactions.
Lists supported
Or if you need to import list data into QuickBooks choose Customer, Vendor, Employee, Items as well as Price Level, Fixed Assets and Inventory Assembly lists.
Batch update
Need to make changes to a large number of transactions or lists in QuickBooks? You can select to skip duplicate or modify or append to existing transactions
Translating data
When you need to search and replace items, names or classes. Set up a function that you can save along with your map.
..and there's more
Axis includes powerful advanced features that makes importing into QuickBooks even easier and smarter whether its auto-numbering, updating contact details, , creating items, customers, jobs, or employees, or import undo.
For your initial 10 day period we provide free telephone support to assist you to set up and configure your new software. Free access to our Support Portal, search our knowledge base of hundreds of support articles, or raise a support ticket. Subscribe to an annual maintenance and support plan and get live support incidents and any upgrades or updates during the year